As director of Public Relations for the City of Long Beach John D'Angelo wrote and put together this monthly newspaper which was mailed to every resident. Jon captures the storm of '92 in these pages from The Long Beach Newspaper For the People of the City by the Sea, Published by the City of Long Beach.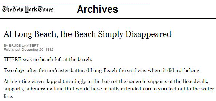 The dunes held back the Atlantic Ocean in the December 11 storm, preventing a catastrophic meeting of the bay and the Ocean. When the storm hit and the damage was done, some said it the the worst they have ever seen.
December 8, 1992
City Manager Edwin Eaton and other Federal Emergency Management Agency flood and hurricane experts to discuss the "what ifs?" of a major storm. Ironically, they had a real-life answer to their hypothetical question just three days later.
December 11, 8 am
It hit! Bayfront homes in the West End and canals are pounded by wind-swept high tides and driving rain.
December 11, 3 pm
City workers begin to unclog sewer mains which were jammed with floor debris.
December 11, 4 pm
Neither snow nor sleet...nor 100-year storms: Long Beach's letter carriers delivered mail throughout the storm.
December 12, 8am
Residents awoke to find garages, basements and first floors virtually destroyed from
click on newspaper pages for large view
flooding.
December 12, 10am
City employees are on the streets to clear debris from roadways, even as another high tide is attacking the City.
December 13, 8am
Local officials brought State and Federal officials to the beach and residential areas in an effort to speed-up the process of gaining federal disaster area status.
December 13, 11am
The storm is gone but the high tides keep coming. For the fifth time in 48 hours the bay and the canals overflow.
December 18, 7pm
City Council President Kevin Braddish, VP Michael Zapson, and council members Edmund Buscemi and Pearl Weill team up with youths from Project CHallenge to prepare the West End Community Center as a disaster relief center. Dozens of bags and boes of clothing, bedding and food were donated by local residents and merchants and distributed to people hurt by the storm. News 12 covered preparations.
LONG BEACH SURVIVED THE '92 STORM AND LONG BEACH WILL SURVIVE 2012 SANDY. THE HEARTS AND BONDS OF THE PEOPLE OF LONG BEACH AND ISLAND PARK ARE STONGER THAN ANY STORM THAT MOTHER NATURE PRESENTS.